It is not just a VTX but an ultra, ultra long range VTX that you never see before. Put it in your drone, you will find the secret of long range FPV.
Ture FPV video transmitter 10km+.In an ideal environment, the range of this VTX will update the human perception for 5.8G long range fpv.
New heat dissipation equipment. It combines with cooling fan and heatsink, cooling down the VTX efficiently and making it more stable than any other VTX.
Breaks the limit of output power.1000mW&2000mW&3000mW make it the most power VTX even a monster VTX.
Clear Image and strong signal transmission. AKK core technology brings you entirely new fpv experience. Enjoy the delight of FPV.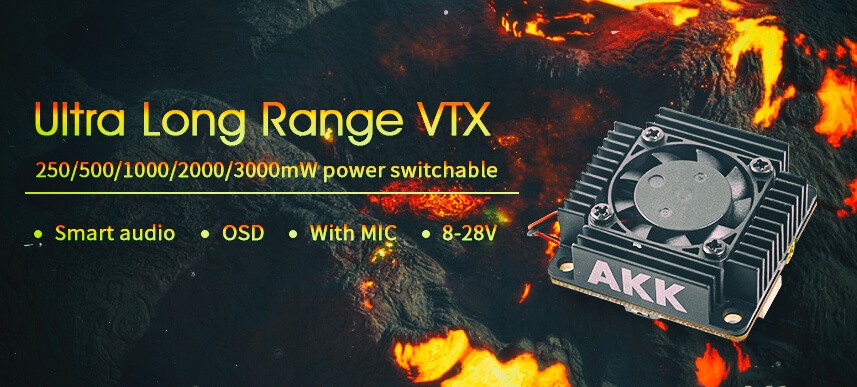 Key features:
Support Betaflight.OSD configuration using smart audio
250/500/1000/2000/3000mW power switchable
8-28V input with 5V output. Suggest using 3S-6S battery.
Built-in cooling fan
With MIC
For AKK VTX Table, pls click here
Learn more about AKK FPV VTX, find a suitable VTX for your racing drone/mini quad/fixed wing or any other drone plane.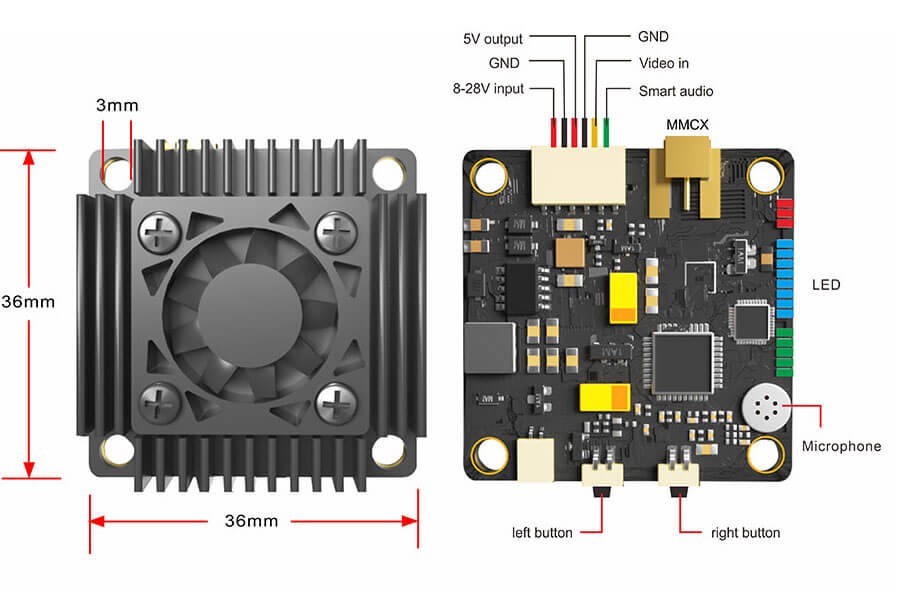 Specifications
| | |
| --- | --- |
| Input voltage |   8V to 28V, suggest at least 2S battery Ultra Long Range VTX |
| Extra features |   Smart audio 3000mW |
| Power supply |   5V Camera @ under 500mA max. |
| Output power |   250/500/1000/2000/3000mW |
| Antenna connector |   MMCX |
| Cable connector |   JST, 6pin |
| Dimensions |   36 (W) x 36 (D) mm, 30.5 x 30.5mm (hole) |
| Weight |   23g (excluding antenna) |
| Kit contents |   1x VTX,1x cable |
Channel

Notes:
PLUG THE ANTENNA BEFORE POWERING THE VTX
DO NOT REMOVE COOLING FAN